news
A race against time for Knowe of Swandro excavation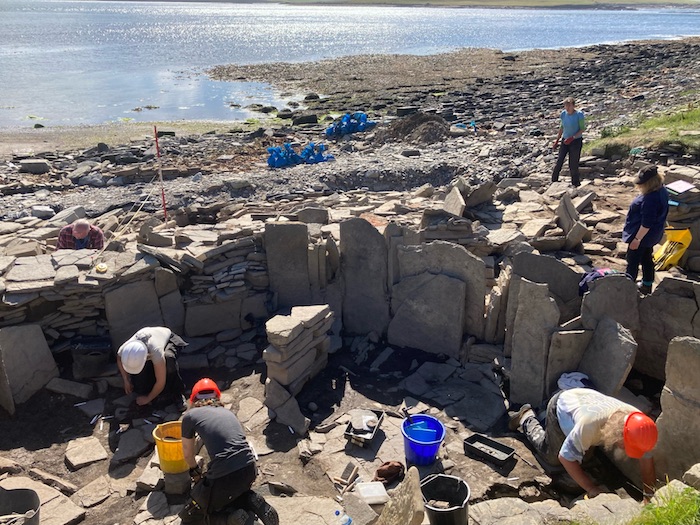 Staff and students are battling against erosion to uncover the secrets of an Iron Age settlement and its surrounding area on Rousay. The excavation is part of a number of archaeological projects forming Scotland Digs 2022.
The site, at the Knowe of Swandro, was once a large settlement occupied from around 1000BC to AD1200 and consists of Iron Age roundhouses, Pictish buildings, a Viking settlement and a Norse long hall, and is considered an area of extreme importance due to the insight the dig can provide on the use of existing sites by Scandinavian settlers.
Dr Steve Dockrill, an honorary researcher, has warned that the project is a race against tide and time. He said: "A substantial Iron Age roundhouse, which forms the focus of a village-like settlement is being eroded by the sea. The large roundhouse had been lived in by generations for a millennium or more, and shows signs of a number of building events modifying the structure."
Although coastal erosion is the biggest threat to unearthing sites such as these, he said, it also provides a unique opportunity to investigate the construction of the roundhouse and surrounding settlement.
Dr Dockrill, the co-director, added: "The site is rich in cultural material and evidence for the use of land and sea in terms of agriculture and fishing. This site is being destroyed by the sea. Over a third of the roundhouse has been lost to coastal erosion. Despite this we are uncovering new evidence for life in the Iron Age and are using the latest technology to record the archaeological evidence before it vanishes".
The University of Bradford-led excavation is working in partnership with the Swandro Orkney Coastal Archaeology Trust and with Historic Environment Scotland which also supports the research.
The excavation has recently uncovered jewellery, tools made from bone, pottery and a late Roman coin as well as a rare Iron Age glass toggle bead. University of Bradford students travel to Orkney to gain practical experience as part of their course.
One of the students, Michal Szedzielorz, said: "This is an amazing experience. I have learnt more in six weeks than I ever expected. I have learnt so many new practical skills and a better understanding of archaeology."