news
A moving day at Scapa Beach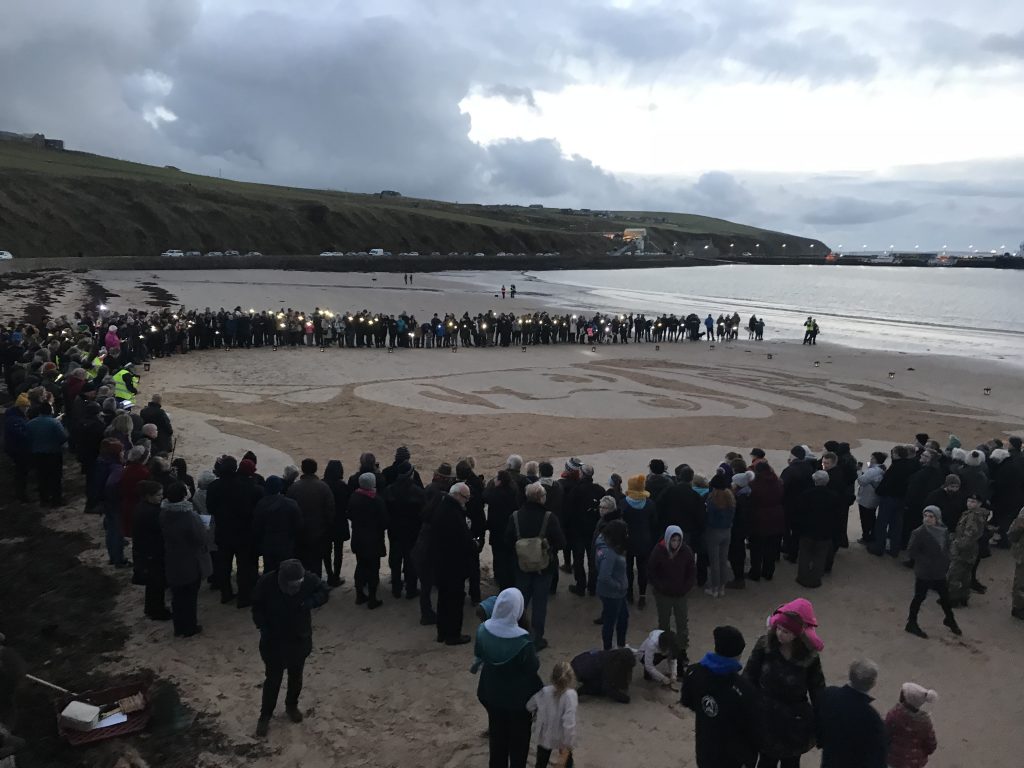 An estimated just under 1000 people witnessed and took part in a highly poignant day of remembrance at Scapa Beach today.
A large-scale sand portrait of Lieutenant Robert William Taylor MC, from Flotta, was created by volunteers at the beach, and will be washed away by the rising tide.
The portrait of Lieutenant Taylor was one of six created on beaches in Scotland as part of film and stage director Danny Boyle's Armistice project Pages of the Sea.
People in Orkney started to gather at Scapa in the early afternoon to join an informal, nationwide gesture of remembrance for the men and women who left their home shores during the First World War. A special shuttle bus service took many people from Kirkwall for the event.
The event began in blue skies and bright sunshine, many stayed throughout the day, only leaving as darkness fell.
National Theatre of Scotland lead the events on the six Scottish beaches, supported locally by Orkney Islands Council.
In addition to the portrait of Lieutenant Taylor, was the opportunity for people to create their own silhouettes in the sand, remembering the millions of lives lost or changed forever by the conflict.
Others paid tribute in their own way, leaving personal messages in memory of lost family members.
In all, portraits were created at 32 beaches around the UK and the Republic of Ireland.
They commemorated men and women who served or were casualties of the First World War. Most died during active service. Chosen by Danny Boyle, they represent the millions who gave their lives to the war.
The project is the culmination of 14-18 NOW, the UK's arts programme for the First World War centenary.