news
Faroese missionary ship visits Orkney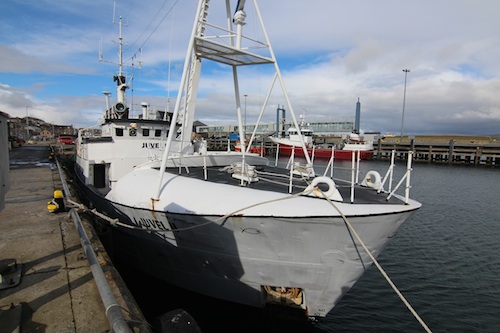 A Faroese missionary ship has arrived in Stromness Harbour, making the first return trip to the islands for four years.
The Juvel II is the former Danish patrol vessel Agdlek Y386. She was built in Svendborg, Denmark, in 1974, and served in the waters around Faroe and Greenland.
In 1977, Christians from the Faroe Islands started a summer boat ministry and, in 2008, bought the 28-metre Juvel II.
As she did during her Navy service, and now for missionary work, the ship spends a lot of time visiting various remote locations in Greenland.
Prior to setting off from Faroe to Greenland this year, the vessel has arrived in Stromness as part of a trip which includes stays in the Western Isles, Orkney, and then on to Shetland next week.
The team onboard the ship said that they experienced very bad weather on the voyage between the Western Isles and Stromness, with the trip taking 24 hours instead of 12.
Speaking from onboard the vessel, Annika Wolles Ljósheim said that the group are holding a series of Christian meetings during their stay, including children and youth events at 3pm and 8pm onboard the vessel on Saturday.Visitors are welcome.
They are also conducting meetings at the John St Hall in Stromness tonight, Thursday, at 7.30pm, and again on Sunday at the hall at 3pm.
The Faroese visitors are also conducting meetings at the Meadows Gospel Hall, Kirkwall, on Friday at 7.30pm and again on Sunday at 6.15pm.