news
150th anniversary of Stromness RNLI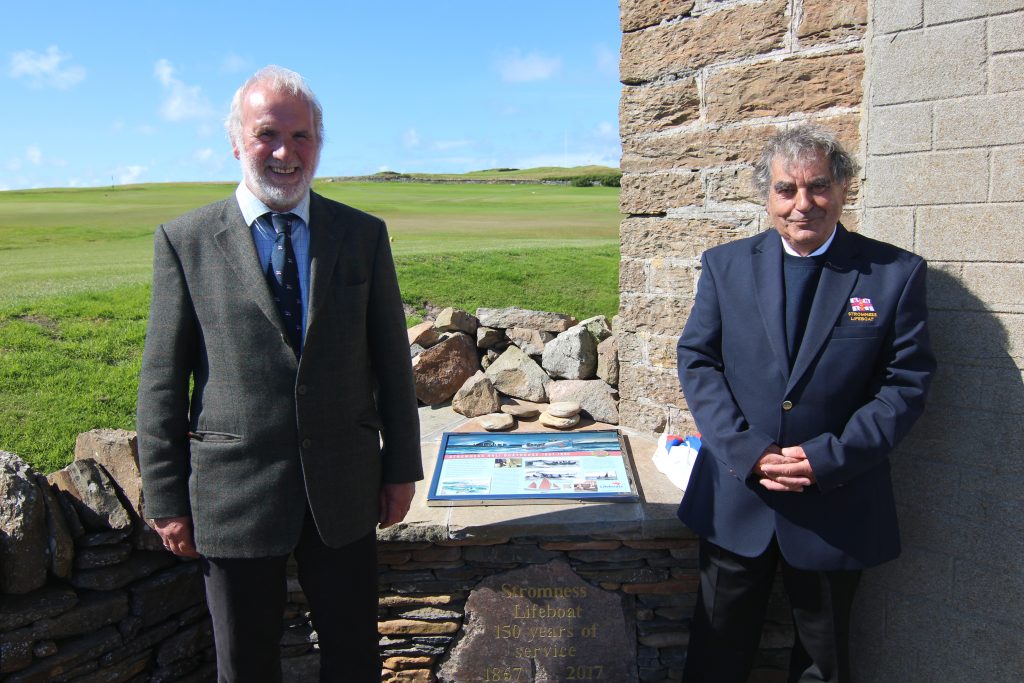 Today, Tuesday, marks the 150th anniversary an RNLI Lifeboat station being established in Stromness, a station which has gone on to save numerous lives in many dramatic rescues over its long and prestigious history.
The anniversary of a RNLI lifeboat being stationed in Stromness was marked on Sunday when a plaque recording the anniversary was unveiled outside the boathouse constructed to house the vessel all those years ago.
The building stands at the corner of what is now the Stromness Golf Course at the Point of Ness, and when built to house that first ever lifeboat, the Saltaire, the lifesaving vessel – powered by oars and sheer determination – would have being launched straight into the sometimes treacherous waters of Hoy Sound.
The station was later relocated into the more sheltered waters of Stromness harbour.
A good size crowd gathered under blue skies and sunshine on Sunday afternoon, including lifeboat crew and officials, lifeboat guild members, and other interested members of the community.
Stromness RNLI chairman Captain Willie Tulloch explained that lives being lost when a ship was wrecked on Graemsay in 1866 while trying to head into Stromness for repairs during a storm, led to a lifeboat station being established in Stromness.
The Albion was sailing between Liverpool and New York, loaded with people, hoping to start a new life in America when tragedy struck.
At the ceremony on Sunday, Captain Tulloch introduced 83 year-old former Stromness Lifeboat crewman, former coxswain, and present Stromness RNLI committee member, Willie Sinclair, to unveil the plaque marking the anniversary, an honour for the man who has a 70 year association with the station.
Captain Tullock then thanked all involved in the creation and installation of the plaque and interpretation board which has now been installed at the former lifeboat station. This included giving thanks to Stromness Golf Club for allowing it to be installed on its property, Tim Barthorpe for researching the information on the interpretation plaque, Ian Ashman for the graphics, Colin Wishart for erecting the plinth and donating his time and materials, and Mark Wemyss for playing the pipes on the day.
The event then moved inside the golf club where a number of Stromness RNLI presentations took place.
This included long service presentations to crew members Colin Mowatt and Norman Brass for 30 years service, a certificate of service Gordon Riddell, and gold badge presentations to ex-coxswain John Banks, and lifeboat operations manager Stewart Taylor.
Mr Taylor has has an association with the station for 55 years.
Willie Sinclair was also presented with a model of the former lifeboat station which was made by local craftsman Iain MacIver.
On Saturday afternoon a lifeboat open day is to be held in Stromness Harbour.
It is hoped that lifeboats from Longhope and Thurso will also attend the event which is set to take place from around 12.45pm onwards.
The following weekend a dinner dance is due to take place in the Standing Stones Hotel in Stenness marking the anniversary.