news
Oystercatcher opts for roundabout nest site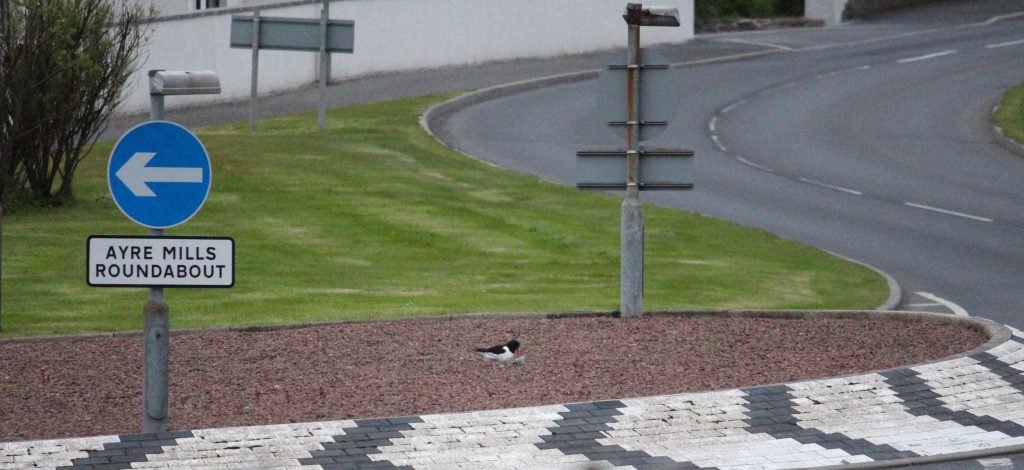 Far from seeking a peaceful and quiet location, an oystercatcher has instead chosen what has to be the busiest and probably noisiest roundabout in Orkney to lay its eggs.
The bird has been seen sitting on three recently laid eggs and seems quite content as the cars a lorries go thundering by.
When not sitting on the actual nest the bird can clearly been seen keeping an eye on things while perched on nearby lamp posts.
On why the bird has chosen to nest in such an unlikely location, local wildlife expert Martin Gray said: "It looks like an odd choice of nest site but they've actually chosen something similar to one of their traditionally favoured nest sites on stony, shingle beaches.
"This very bonny, and doubtless expensive rough pink stone is just a tiny round beach for them. Elsewhere in Orkney they will nest close to roads, so I don't think the noise will be an issue."
He also said that the nest site could be considered as a smart move by the birds, for the meantime at least.
Martin added: "I don't think we should underestimate these oystercatchers, they could be choosing such a busy site in order to give themselves and their eggs an added layer of protection from predators.
"It's well-known that some species of birds will nest close to humans because our presence keeps predators at bay, even if it is a bit uncomfortable for the birds, the advantages outweigh the disadvantages.
"The clutch is usually 2-3 eggs, rarely four. She's got three now so that's probably it complete. When the eggs are fresh they don't need full-time incubation but as the chick begins to form and grow this becomes more important as the risk of harmful chilling increases substantially.Both parents will sit for 24-27 days and the clutch should all hatch more or less together.
"The chicks are mobile and hungry from a few hours after birth and I think the parents will quickly try to get them off there onto somewhere they can feed. That's going to be risky.
"I think for their safety and the safety of road users on the roundabout, it might be necessary to spend a few minutes giving them a hand off the roundabout and into the nearest open area. That could be a matter for Orkney Islands Council and Police when the big day comes."