news
New Maeshowe visitor centre opens
The new Maeshowe Visitor Centre in Stenness opened today.
Making use of the vacant West Mainland Day Centre, the new visitor hub will feature a shuttle bus service for tourists travelling the short distance to Maeshowe, with hourly supervised tours seven days a week.
Last September Historic Environment Scotland (HES) made the shock announcement that the 5,000-year-old Neolithic chambered tomb would "temporarily" close due to health and safety concerns over vehicle access to the car park at the former visitor centre at Tormiston Mill, just over the road.
On September 26, Maeshowe closed, but just hours after, HES announced it would reopen three days later, with a reduced number of tours and visitors bused in from Skara Brae.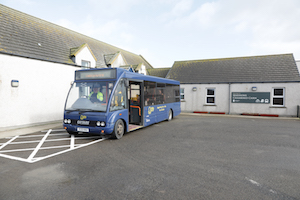 OIC's policy and resources committee offered the day care centre to HES for the sum of £1 a year — an offer that was later rescinded, with councillors agreeing that the lease should be charged at the going commercial rate — just over £6,000 a year — for the next two years.
The new centre boasts improved visitor and staff facilities, wheelchair access, parking and new interpretation materials.
There is also be a new gift shop selling a wide range of souvenirs of Maeshowe and Orkney as well as locally made products including jewellery and textiles.
It also has virtual reality headsets to give visitors "a truly immersive introduction to the site" according to HES.
Access to Maeshowe will continue to be by guided tour only, and as with the previous visitor centre, coaches will not be permitted without prior arrangement.
Lucy Vaughan, head of conservation north at HES said: "We're delighted to be opening the new Maeshowe Visitor Centre in Stenness in time for the summer season starting.
"The centre will offer improved facilities for both visitors and staff, including wheelchair accessibility throughout, a new shop and car parking.
"It's also fantastic to be able to bring an existing, local building back into use which provides the best use of space and meets the needs of the community. We're now all set-up to make the coming season a successful one."