news
Memorial project organisers pick up Heritage Angel award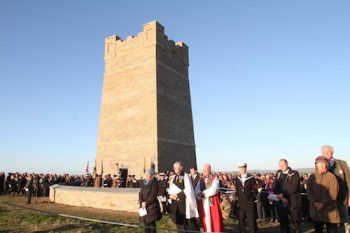 The people behind the restoration of the Kitchener Memorial, in Birsay, picked up the award for Caring and Protecting at last night's second annual Scottish Heritage Angel Awards in Edinburgh.
Neil Kermode and the Orkney Heritage Society Kitchener Memorial Working Group not only oversaw the renovation of the memorial, erected to mark the loss of HMS Hampshire in June 1916, and the loss of Lord Kitchener, but added a metre-high wall, bearing the names of the 735 other men who died when the battleship struck a mine off Birsay.
The awards, which welcomed over 50 nominations for heritage volunteers across the country, recognise and celebrate the efforts of volunteers in helping to better understand, protect and value Scotland's heritage and history.