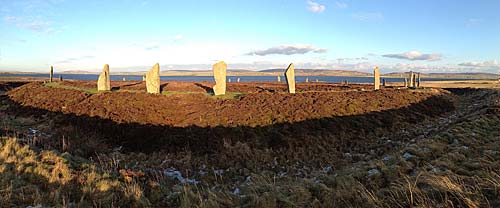 A map with a difference is being created in Stenness tomorrow, Sunday.
Orkney folk are invited to take part in an organised walk through the Heart of Neolithic Orkney World Heritage site, as part of a project to create a "community map" – which will record memories, sounds, stories and smells, rather than just the conventional roads and directions.
The finished map will be available online as a free download so that people can learn what matters to Orcadians about their World Heritage Site, and the hope is to produce a print leaflet version in future.
The walk will be led by Historic Environment Scotland's World Heritage Site rangers on Sunday afternoon, leaving from the Stones of Stenness at 2pm.
Alice Lyall, World Heritage Site co-ordinator for Historic Environment Scotland said: "We know that the World Heritage Site means a lot to the Orkney Community, so I would encourage them to come and tell us specifically what aspects are important to them, and why.
"The community map concept is a great way to do this, as it is a medium which allows feelings and ideas to be expressed and recorded in an accessible and engaging way."
As well as Sunday's walk, Stenness Primary School at the West Mainland Day Centre will be contributing their memories and experiences to the map.