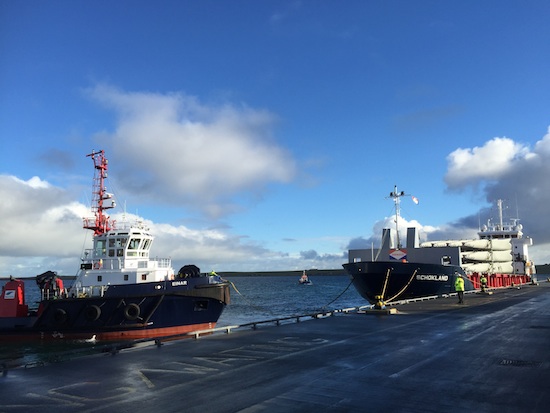 A Dutch cargo vessel which was to be towed to Aberdeen after breaking down off Orkney on Saturday, arrived alongside Hatston Pier shortly before 1pm this afternoon.
The Orkney Towage tug Einar was called to the assistance of the Schokland, which had been drifting without power two miles off the south-west coast of Hoy late on Saturday afternoon.
The Coastguard emergency towing vessel Herakles and the Longhope Lifeboat were also called to the scene, and a line was passed to the stricken vessel.
The Herakles then accompanied the Schokland and the Einar until they had passed through and were clear of the Pentland Firth en route to Aberdeen. However, Aberdeen harbour was closed to shipping because of wind and sea conditions. A change of plan then saw the Einar tow the vessel to Kirkwall.
The Einar was assisted by the pilot boat Kirkwall Bay in bringing the vessel safety alongside Hatston Pier.