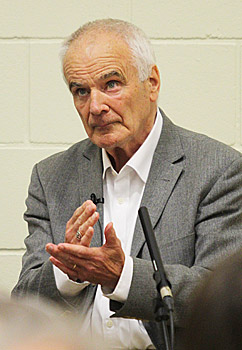 One of classical music's highest honours, the Royal Philharmonic Society Gold Medal, has been awarded to Sir Peter Maxwell Davies.
Sir Peter becomes the 102nd recipient since the medal was founded in 1870 in celebration of the centenary of the birth of Beethoven.
The medal was presented to him at his home in Sanday by RPS Council Member, Sally Groves MBE.
In awarding the medal, the society said: "Max is our foremost champion of creative music education, drawing on his early teaching experience and demonstrating that all children can compose music and perform given the minimum of opportunity.
"He is never reluctant to speak out or upset the status quo on matters about which he feels passionately (and there are many) – whether it be to admonish the government on arts funding or on green issues, to march against the invasion of Iraq, or to take on restaurants blighted by muzak.
"And yet, while taking a very public role he has simultaneously embedded himself in the community of the Orkney Islands, his home since 1970. Here, as one of the founders of the St Magnus International Festival, he has put into action his belief (which he stated in his 2005 RPS Lecture), that 'a place cannot come to life musically unless or until the inhabitants make and perform their own songs which are relevant to that place, and to the lives of the people who live in it.'
Sir Peter commented: "I am absolutely delighted and couldn't be more honoured to receive the RPS Gold Medal. That's the one I wanted!"