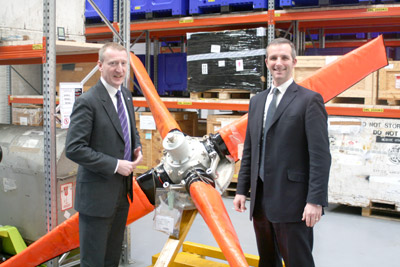 Amid ongoing concerns about reliability of flights to and from Orkney and Shetland, Northern Isles MSPs Liam McArthur and Tavish Scott visited Loganair's 'spares hub' site at Glasgow Airport yesterday.
The hub was established to speed up the process of supplying parts for the Loganair aircraft fleet.
In addition, Loganair say that efforts have been made to recruit and train engineering support, in large part replacing those who have left the airline over recent times.
Speaking afterwards, Mr McArthur said: "It was useful to see first-hand Loganair's new 'spares hub' at Glasgow Airport and to speak to local staff. They are confident that the facility will help Loganair respond to technical issues more quickly and allow parts to be replaced on a more regular basis.
"Hopefully, this will deliver the improvements that are so desperately needed in terms of the reliability of our lifeline air services. In addition, plans to make greater use of technology to communicate with passengers is a welcome step in the right direction. This is particularly the case in the event of technical or weather-related delays".
He added: "I was encouraged to hear the Head of Engineering confirm that this new facility in Glasgow will allow a greater number and range of spare parts to be stored in the stations around Scotland, including Kirkwall. The local engineering team in Orkney is highly regarded, but they also need the means to do their job.
"I was also keen to highlight concerns on behalf of Loganair's front line staff. Improving reliability of the service must remain the number one priority, and this will benefit passengers and staff alike, but ground staff in Kirkwall often go out of their way to help and need to be supported by the airline."