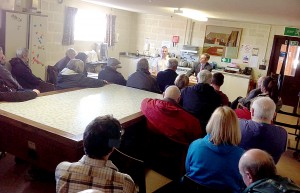 Orkney MSP Liam McArthur hailed meetings in North Ronaldsay this week with the head of Scotland's air ambulance service and island residents as 'very productive'.
Following earlier visits to the other north isles, Scottish Ambulance Service's (SAS) Andrew Moir returned to Orkney yesterday, Monday, for further meetings, this time with the community in North Ronaldsay.
These visits have been organised by Mr McArthur to promote a better understanding within SAS of what island communities need and allow residents to question those in charge of this genuinely 'life or death' service.
Speaking after the meeting, Mr McArthur said: "The turnout for the public meeting in North Ronaldsay was overwhelming, with well over half the island's residents in attendance. We also had a very useful discussion with the Community Council and the local nurse practitioner, Bernie Holbrooke.
"Given the extent to which air ambulance services are genuinely a matter of life or death for those in the community, the response to this visit was hardly a surprise.
"The public meeting was productive and offered an excellent opportunity for those present to highlight their concerns as well as raise questions about the future of the service and how it might be improved.
"Our discussions with the Community Council and local nurse covered very similar ground.
"A couple of recent incidents involving the Inverness-based helicopter were fresh in the minds of those we met and gave rise to specific concerns.
"It was timely therefore to have an opportunity to consider what lessons might be learned from those events."
Mr McArthur added: "I will be following these up with SAS and others over the coming weeks.
"In the meantime, I would like to thank the Community Council and Bernie Holbrooke for their constructive engagement and the local community in North Ronaldsay for turning out in such large numbers to make clear their views."