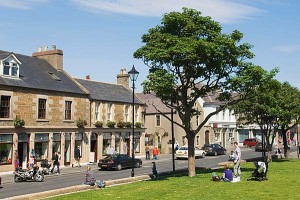 The controversial placemaking scheme for Kirkwall's Broad Street has been axed by OIC councillors.
At a meeting of the full council today, elected members voted against the proposed scheme, which included widening the pavement on the shop side of Broad Street, relocating the taxis from Broad Street to Castle Street, and reconfiguring the parking area outside Spence's newsagent.
Other measures sought to slow traffic and improve pedestrian movement around Broad Street and its connections with Victoria Street, Albert Street and Castle Street.
However, the £2 million scheme — which would have cost the council £780,000, with the remainder coming from transport charity Sustrans and Historic Environment Scotland — has failed to find support with the public.
Making a motion to throw out the scheme, Councillor David Tullock said: "I've been here almost nine years as a councillor and this item, placemaking on Broad Street, has been the biggest public demonstration of opposition to anything that the council's done in my involvement in the council.
"To my knowledge about 95 per cent of people are against what we are proposing for Broad Street.
"They are not against improving Broad Street, they're not against certain improvements, but they are against the certain improvements that we are proposing."
In a recorded vote, members voted by 13 votes to eight in favour of Councillor Tullock's motion.