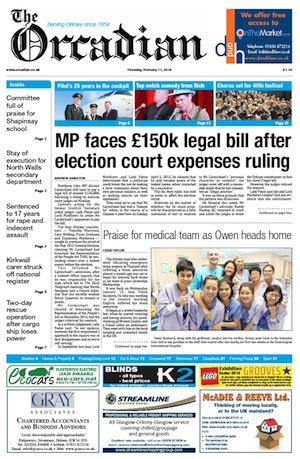 This week's paper is now available from all the usual outlets and online, here.
This week's front page features stories on:
• The expenses bills which face Orkney and Shetland MP Alistair Carmichael and the four petitioners who took him to court in Edinburgh. Mr Carmichael faces a £150,000 legal bill after an election ruling earlier this week.
• An Orkney man who underwent life-saving brain surgery in Thailand, after suffering a brain aneurysm almost a month ago, begins his journey home.
Also inside:
• Shapinsay Community School receives a glowing report from inspectors.
• A Dutch cargo ship is left powerless off Hoy
• North Ronaldsay mutton and wool aim for protected status.
For these stories, and much more, pick up a copy of the paper today.