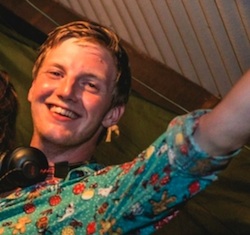 The family of an Orkney man who required emergency brain surgery after suffering from a brain aneurysm in Thailand last week, say that they have been staggered by the amazing generosity and kind messages of support shown since 24 year-old Owen Auskerry became seriously ill just a matter of days ago.
Owen's parents, Simon and Teresa, who farm and create wool products on the island of Auskerry, set off from Orkney and flew to be by his hospital bedside in Bangkok, following Owen suffering from the aneurysm on Wednesday. Owen's brothers Hamish and Rory plan to fly out today, Monday.
Yesterday, Sunday, five days after suffering from aneurysm, and after going through a three and a half hour brain operation, Owen regained consciousness, however, now faces a long road to recovery.
Due to the high cost of Owen's medical treatment in Thailand, and the financial implications of his parents and other family members going out to Bangkok to help look after him, as well to bring him home, the family set up an online fundraising page and website where details on Owen's recovery can also be found. It is on online at http://togetherforowen.com/
Over the weekend the donation page broke the £20,000 barrier, with donations still coming in.
The family said: "We have been very fortunate to have so many people offering to help so we thought setting up the page would be a good way to channel that love and support into something practical. Any money that is surplus will be given to a charity of Owen's choosing when he's made the recovery we all believe and hope he can.
"We continue to be staggered by the amazing generosity shown by you all. We have been continuing to increase the target as we become aware of the cost of Owen's treatment.
"For example, the air ambulance to get him to Bangkok cost £6000 and his brain surgery cost £14,000. On the fundraising side of things the level of generosity from friends, family and strangers has been absolutely incredible."
Teresa added: "We have been so moved by the hundreds of messages and the generosity of all of you. There is an unbelievable amount of love out there. The staff here are amazing too and it is a wonderful proof of humanity that total strangers who do not even speak our language are caring so well for Owen."