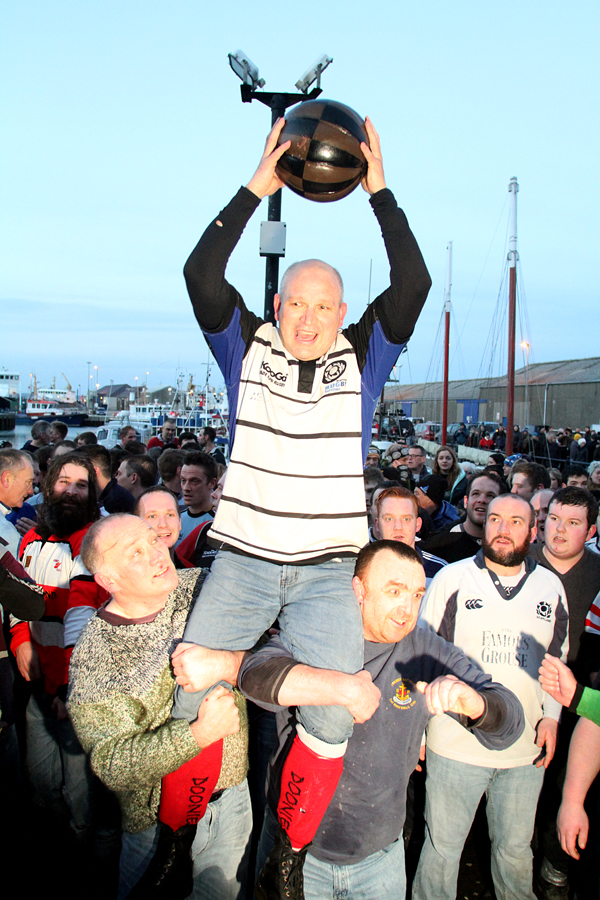 The Doonie's made it a clean sweep of wins, winning the New Year's Day Men's Ba, reaching their goal of the Basin just moments before 3.30pm.
A very short time after the ba' hit the water, in the corner of the Basin opposite the Kirkwall Hotel, the Doonie's held aloft their winner, 49 year-old Ian Rushbrook of Queen Street, Kirkwall.
The game began as the clock struck 1pm, as Uppie winner of 25 years-ago George Currie launched the large Edgar Gibson made ba' into the centre of players on Broad Street.
The Doonie's had the numbers and were well organised, but met with Uppie resistance throughout the game, which took an unusual route to the water, being pushed off Broad Street and on to Albert Street, as far as the Little Island shop.
There, an Uppie move saw the ba' going down a lane leading out to King Street, where the scrum reformed in a garden, before it was pushed down King and Queen Street, down Bridge Street Wynd, on to Bridge Street, and on to the water.
A clearly delighted Ian Rushbrook praised the Doonie team for how they played on their way to victory.