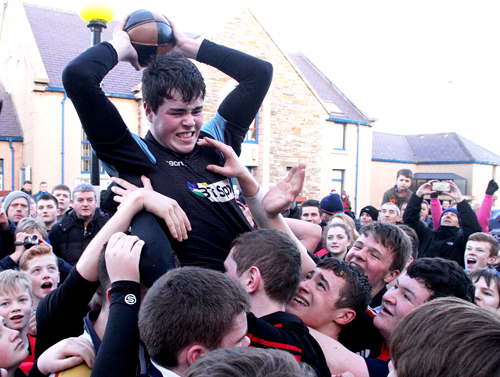 The Doonie boys extended their winning streak to 10 in a row, claiming victory in the first Ba' of the year in just over an hour.
After a 25-minute debate 15-year-old Henry Gordon, from St Ola, was raised on the shoulders of his team mates after a hard contest.
Speaking shortly afterwards, an exhausted Henry said: "It's amazing. It hasn't sunk in yet but credit to all the boys today."
The first hour's play took place on Broad Street with the ba' spending a lot of time on the ground.
When players were on their feet though it was the Doonies who looked to have the weight as they edged along the road.
Shortly after the hour mark, Doonie player Ben Johnson broke from the scrum and left the pack trailing in his wake as he sprinted down Albert Street and Bridge Street towards the basin.
The ba' hit the water at around 11.05am and after a contest between Henry and Ewan Scott it was Henry who was declared the winner at 11.30am.