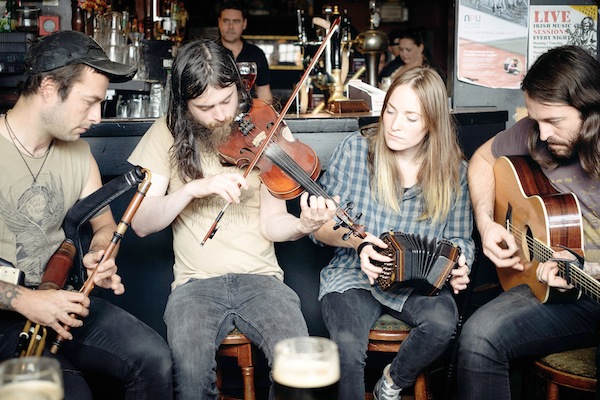 The team behind the Orkney Folk Festival have today revealed some 14 acts — bringing the current total to 18, spanning nine distinct traditions — who will perform at the 34th annual event, held between May 26-29.
Artists from the United States, Canada, Finland, Ireland, England, mainland Scotland, Shetland and the Hebrides will join with Orkney's own talent at the four-day event.
Live Act of the Year at the 2015 Scots Trad Music Awards, RURA; Scottish fiddling sensations, Session A9; traditional Irish song quartet, Lynched; Acadian trio, Vishtèn, who hail from Canada's Prince Edward Island and Montreal; Rob Heron and the Teapad Orchestra, who fuse Western Swing, Gypsy Jazz, country and blues; stalwart of the West Country folk scene, and father of a folk dynasty, Geoff Lakeman; popular Shetland fiddle and guitar duo, Maggie Adamson and Brian Nicholson; rising Scottish singer and ukulele player, Zoë Bestel; and one of Scotland's most in-demand ceilidh outfits, The Glencraig Scottish Dance Band, will all take to Orkney's festival stages this year.
The festival will also host the first Orkney performances from the distinctly Scottish FunBox – the new family singalong show from Anya Scott-Rodgers, Gary Coupland and Kevin Macleod, former stars and writers of The Singing Kettle.
Visiting acts will be welcomed by a stellar cast of Orcadian musicians and singers, which so far includes one of Orkney's best known musical sons, Ivan Drever, returning to the festival for the first time in eight years, to celebrate his sixtieth birthday in fitting style; power duo Saltfishforty, who will reprise their Saltfish@forty Celtic Connections show on home turf; Orkney's world-renowned and much loved musical twins, The Wrigley Sisters; and nationwide festival favourites, The Chair.
These announcements follows last month's news that the festival will host world-renowned, Grammy-nominated Irish-American fiddler Liz Carroll; Mercury-nominated Tyneside vocal sister-act The Unthanks; the leading act on the Nordic fiddle scene, Finland's Frigg; and the voice of Disney Pixar's Brave, Gaelic songstress Julie Fowlis.
See this week's paper for the full story, and more information on each of the acts.
To find out more about the festival, head to www.orkneyfolkfestival.com.