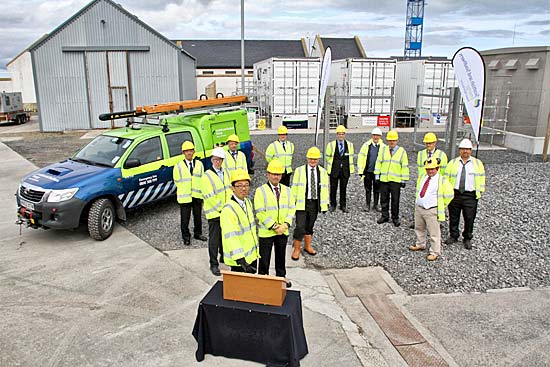 Scottish Hydro Electric Power Distribution (SHEPD) has connected the UK's first large scale battery to the local electricity distribution network on Orkney.
The trial project will investigate how large scale batteries could play a role in the release of capacity on the electricity distribution network.
The two megawatt lithium ion battery is installed at Kirkwall Power Station and builds on the work already carried out by SHEPD in delivering the world's first Active Network Management scheme in Orkney in 2009.
The battery will operate through signals sent by the existing Active Network Management scheme by absorbing and storing excess renewable energy.
Orkney MSP Liam McArthur said: "Our islands have huge potential for generating renewable energy, but a lack of sufficient grid capacity is a growing problem. The active network management system has freed up capacity to allow many local projects to be connected to the grid in recent years, but new solutions now need to be found if Orkney is to realise its full potential in renewables.
"I am certain that battery storage has an important role to play in ensuring we make best use of the resources at our disposal."